Knit DC: Sunday Meetup
11/2/08
2 PM
White wine, cookies/nibbles, tea, diet cokes
Otherwise, BYO goodies!
(FYI: I own a dog and a cat. Both are well behaved.)
I have emailed everyone who already said they are interested, but if there's more, just holler! I'm willing to pick people up at 1:45 in front of the Woodley Park Metro- let me know if you'd like to do that!
Bonus Goodies: Star Stitch II Pattern!
[As seen on Marnie McLean's blog:
Marnie, Speak!
]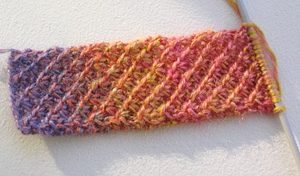 Worked on larger needles and blocked out, it produces a lovely flower-like lace stitch. Worked tightly on smaller needles, you get a great textural stitch that doesn't curl and is just unusual enough to catch peoples' attention.
The stitch is worked as follows.
With a multiple of 4+1
Star: P3 tog, but leave old stitch on left needle, yo, P same 3 stitches together, removing the old stitch from the left needle.
Rows 1 and 3: Knit
Row 2: *k1, star stitch* repeat to last stitch, k1
Row 4: k1, p1, *k1, star stitch* repeat to last 3 stitches, k1, p1, k1